Summer Chamber Music Outdoor Series
Summer Serenade
Ludwig van Beethoven

String Trio No. 5 in C minor, Op. 9 No. 3
I. Allegro con spirito
II. Adagio con espressione
III. Scherzo — Allegro molto e vivace
IV. Finale — Presto
Franz Schubert
Piano Quintet in A major, D. 667, "The Trout Quintet"
IV. Andantino-Allegro
Ralph Vaughan Williams
Piano Quintet in C minor for violin, viola, cello, double bass and piano (1903)
I. Allegro con fuoco
Contemporary Series
Love & Light
Pyotr Ilyich Tchaikovsky

Romeo and Juliet, TH 42, ČW 39 "Overture-Fantasy"
Natalie Dietterich
light, beloved (West Coast Premiere)
Steve Thachuk (guitar)
William Grant Still
Symphony No. 1 in A-flat major, "Afro-American"
Longing (Moderato assai)
Sorrow (Adagio)
Humor (Animato)
Aspiration (Lento, con risoluzione)
Heitor Villa-Lobos
Bachianas Brasileiras No. 4
I. Prelúdio (Introdução)
Felix Mendelssohn
Piano Concerto No.1 in G minor, Op.25
I. Molto allegro con fuoco
Juhyeok Lim (piano)
Henri Vieuxtemps
Violin Concerto no. 5 in A minor, Op. 37
I. Allegro non troppo + Finale
Jaden Kim (violin)
Henryk Wieniawski
 Violin Concerto No. 2 in D minor, Op. 22
III. Allegro con fuoco – Allegro moderato (à la Zingara) 
Kailey Yun (violin)
Sergei Rachmaninoff
Piano Concerto No.2 in C Minor, Op.18
I. Moderato
Celine Chen (piano)
George Gershwin
Rhapsody in Blue
Wan-Chin Chang (piano)
Chamber Music Pop-Up Series
Summer Serenade
Wolfgang Amadeus Mozart
Eine kleine Nachtmusik
I. Allegro
Terry

 

Riley
In C
Antonín Dvořák
String Quintet No. 2 in G major, Op. 77
Allegro con fuoco

Scherzo. Allegro vivace

Poco andante

Finale. Allegro assai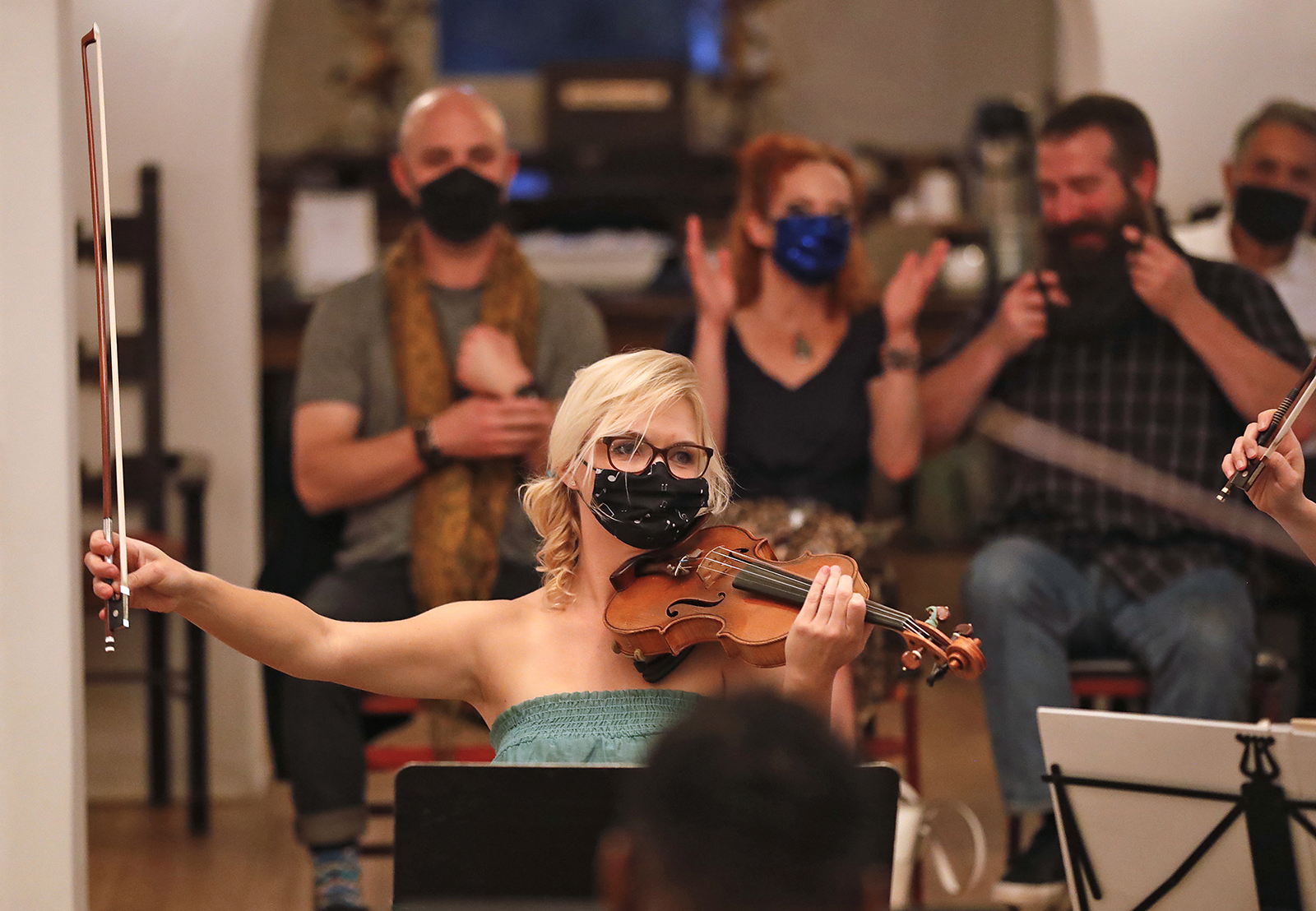 Tue, March 16, 2021
Casa Romantica
415 Avenida Granada
San Clemente, CA 92672
An Evening with … series
An Evening with
Dvořák &
Mozart
Wolfgang Amadeus Mozart
Eine kleine Nachtmusik
I. Allegro
Antonín Dvořák
String Quintet No. 2 in G major, Op. 77
Allegro con fuoco

Scherzo. Allegro vivace

Poco andante

Finale. Allegro assai
Gioachino Rossini
William Tell Overture
Howard Shore
Lord of the Rings: The Fellowship of the Ring
Bedřich Smetana
Má vlast
III. Vltava (The Moldau)
Aaron Copland
Rodeo

I. Buckaroo Holiday
V. Hoe-Down
Pyotr Ilyich Tchaikovsky
1812 Overture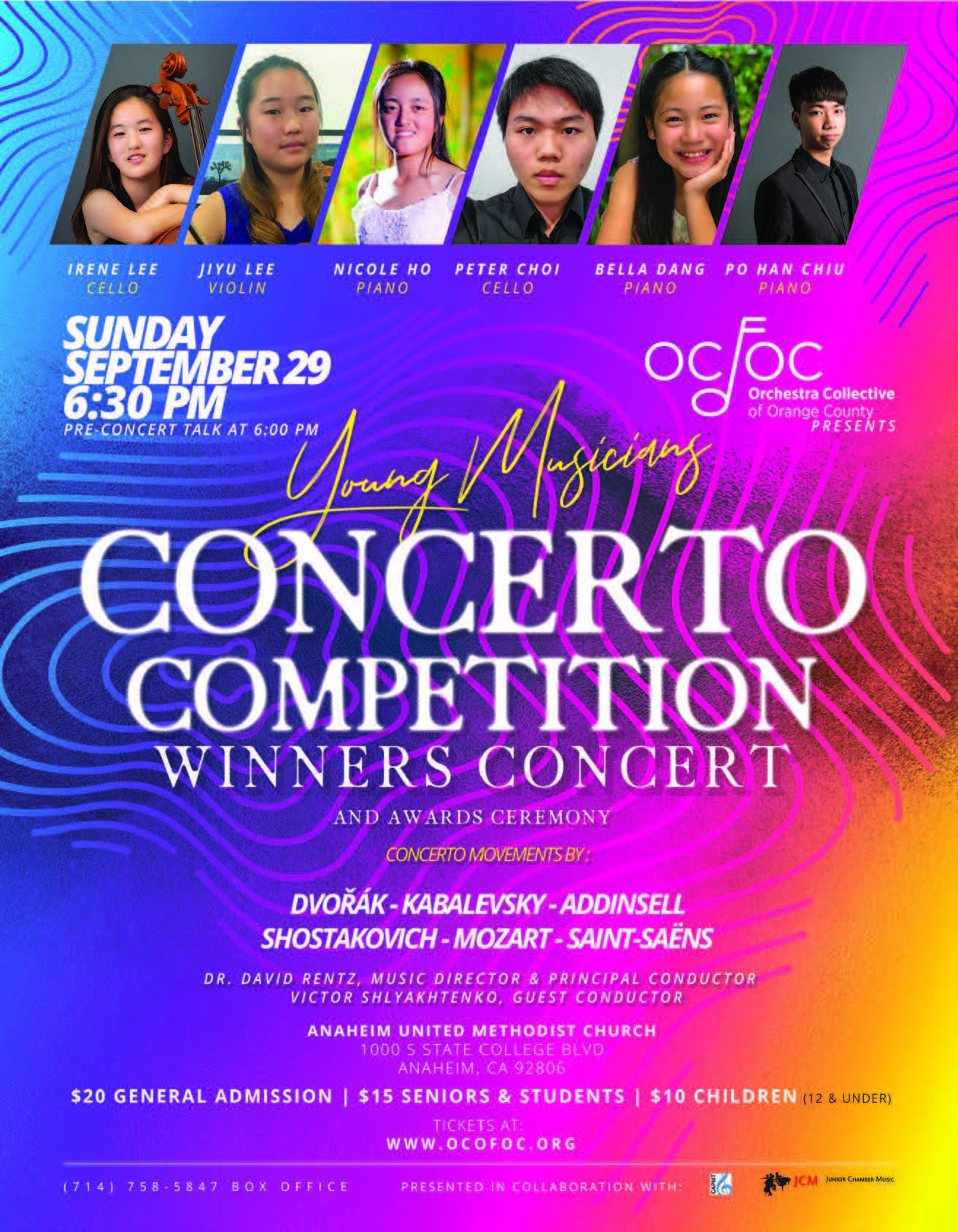 Sun, Sep 29, 2019
Anaheim United Methodist Church
1000 S State College Blvd
Anaheim, CA 92806
1 Civic Center Cir
Antonín Leopold Dvořák
Cello Concerto in B minor, Op. 104, B. 191
Dmitry Borisovich Kabalevsky
Violin Concerto in C Major, Op. 48
I. Allegro molto e con brio
Richard Stewart Addinsell
Dmitri Dmitriyevich Shostakovich
Cello Concerto No. 1 in E-flat major, Op. 107
I. Allegretto
Peter Choi (cello)
Victor Shlyakhtenko (guest conductor)
Wolfgang Amadeus Mozart
Piano Concerto No. 20 in D minor, K. 466
Charles-Camille Saint-Saëns
Piano Concerto in No. 2 G minor, Op. 22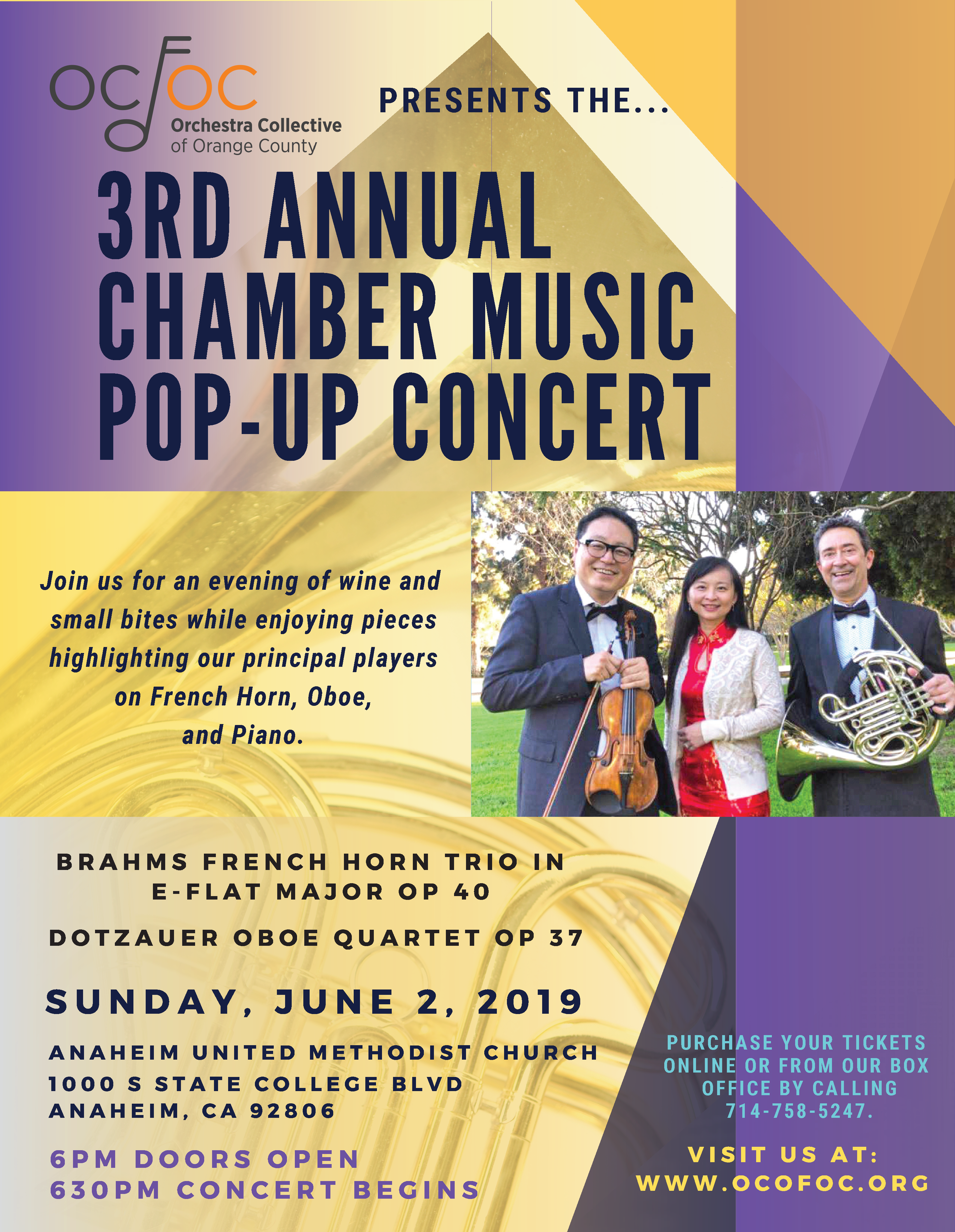 Sun, Jun 2, 2019
Anaheim United Methodist Church
1000 S State College Blvd
Anaheim, CA 92806
1 Civic Center Cir
Chamber Music Pop-Up Series
Third Annual Chamber Music Pop-Up Concert
Johannes Brahms
Horn Trio in E♭ major, Op. 40
Andante

Scherzo (Allegro)

Adagio mesto

Allegro con brio
 Justus Johann Friedrich Dotzauer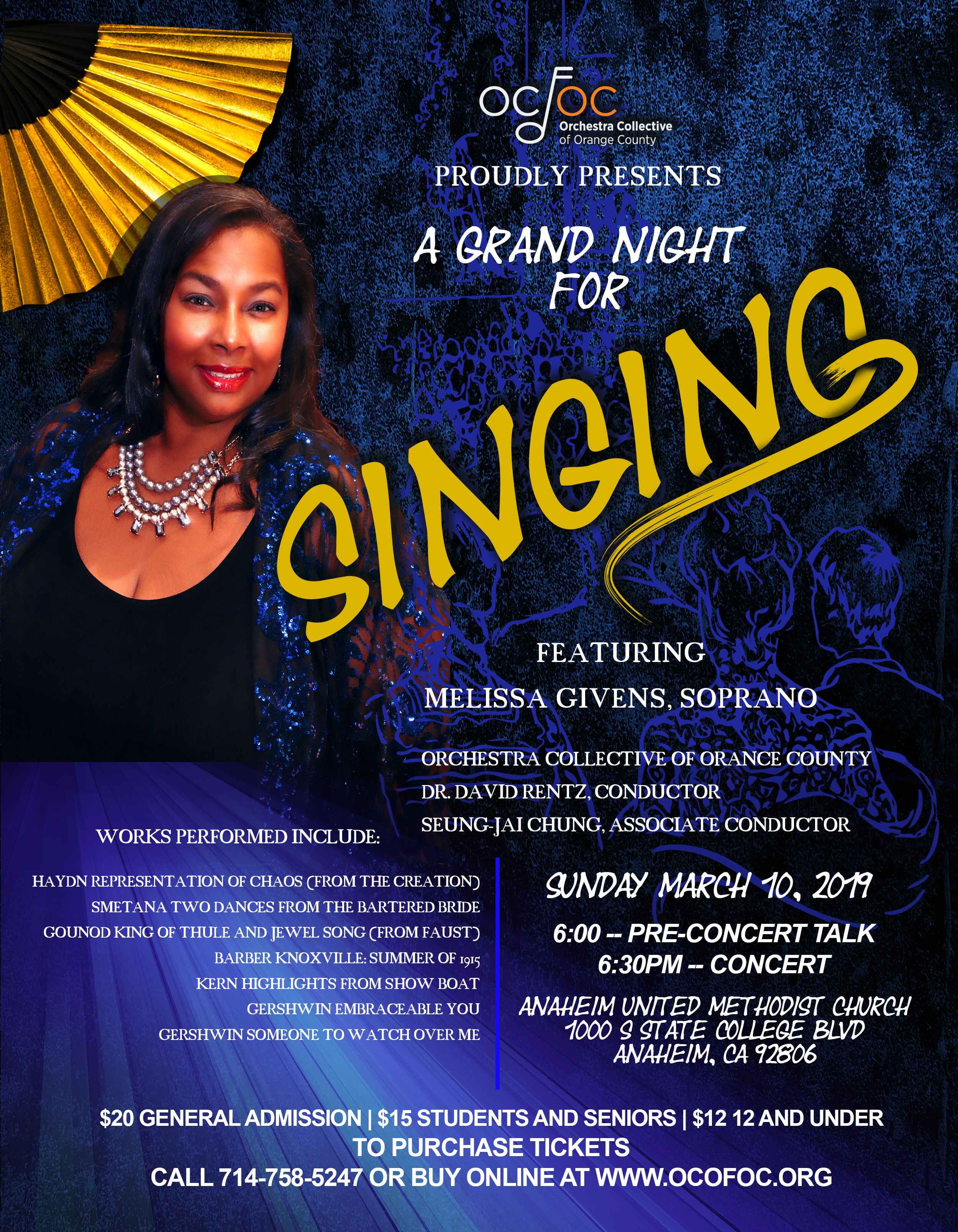 Sun, Mar 10, 2019
Anaheim United Methodist Church
1000 S State College Blvd
Anaheim, CA 92806
1 Civic Center Cir
A Grand Night for Singing
Franz Joseph Haydn
The Creation
"The Representation of Chaos" 
Bedřich Smetana
The Bartered Bride
Two Dances
Charles-François Gounod
Faust
"King of Thule"  (Il était un roi de Thulé)
Jewel Song ("Oh dieu! Que de bijoux … Ah! je ris de me voir si belle en ce miroir")
Samuel Osmond Barber II
Knoxville: Summer of 1915, Op. 24
Jerome David Kern
Highlights from Show Boat
George Gershwin
"Embraceable You"
"Someone to Watch Over Me"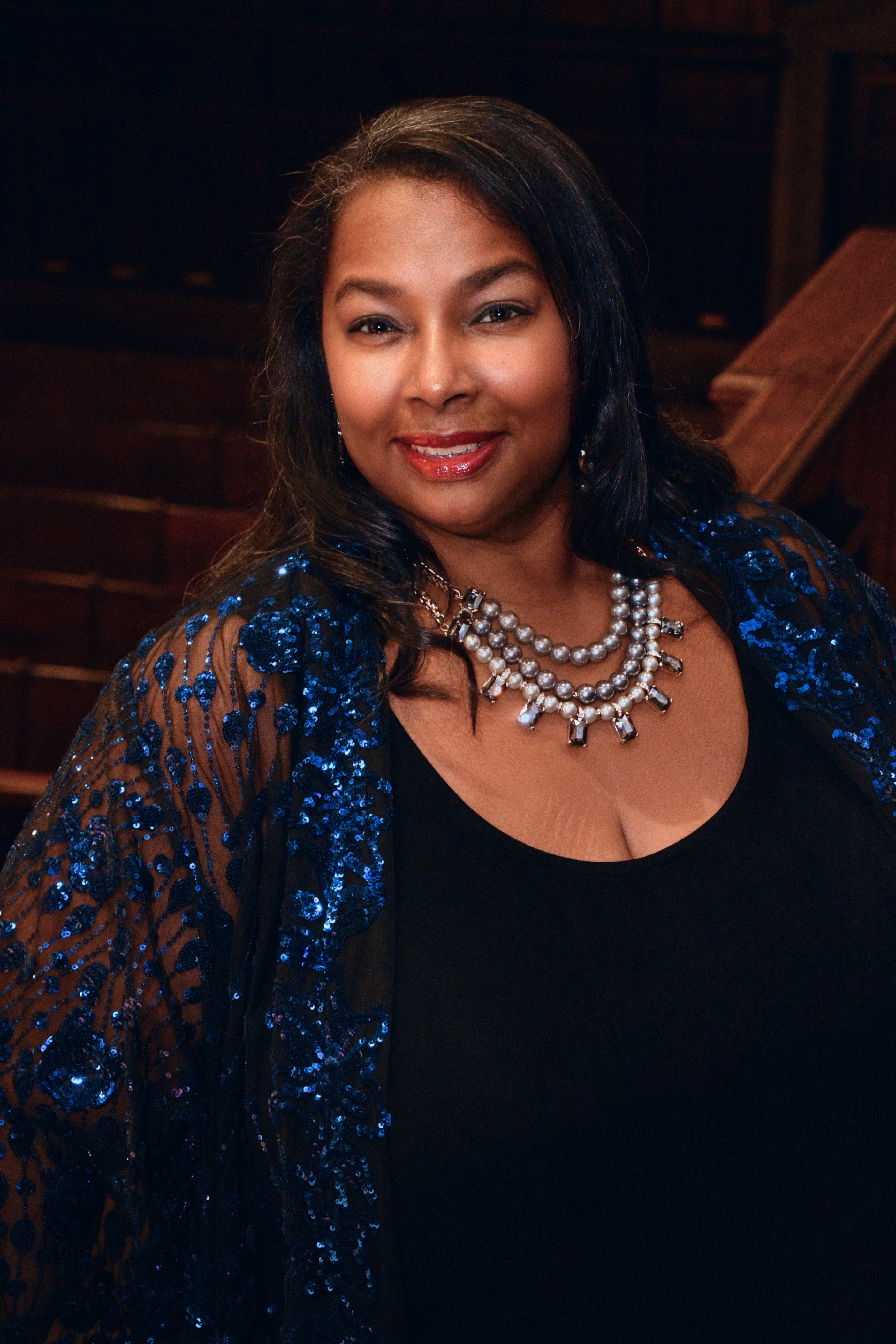 Melissa Givens
Soprano
American soprano Melissa Givens moves and excites audiences and critics alike with a rich, powerful tone, crystalline clarity, and intelligent musical interpretations. Especially noted for her expressiveness and elegance on the stage, she's been hailed as a singer whose music-making is "consistently rewarding" and "a pleasure to hear." Givens is also an extremely versatile artist, regularly performing repertoire from the Baroque era through music of the 21st century.
Recent performances include the solo recital Out of the Shadows: Art Songs by Black Composers, as well as Unity: Songs of Invitation with Conspirare, the premiere of Dear Lieder, by frequent collaborator Tom Flaherty (with Pomona College faculty and guest artists), and the premiere of Eric Banks's To Be a Stranger with Ensemble Diaspora. Upcoming events include the chamber music recital Love's Joys, Life's Shadows: Songs Among Friends, a duet recital with baritone Timothy Jones, and the release of her second solo recording, The Artist at Fifty, a recital of art songs from the composers' fiftieth year.
A champion of collaborative musical endeavors, Givens performs with various chamber music groups, including Conspirare, the 2015 Grammy© winner for Best Choral Performance. Her solo appearances on their major label releases have received enthusiastic reviews. She can also be heard on her debut solo album, Let the rain kiss you.
 Givens is an Assistant Professor of Voice and Head of Voice Studies at Pomona College. She earned a Doctor of Musical Arts degree from the Moores School of Music at the University of Houston, a Master of Music from the Shepherd School of Music at Rice University, and a Bachelor of Arts in Music from Davidson College. She is a native of Buffalo, New York.
Sun, Jan 27, 2019
Anaheim United Methodist Church
1000 S State College Blvd
Anaheim, CA 92806
1 Civic Center Cir
An Evening with … series
An Evening with Mozart
Wolfgang Amadeus Mozart 
Symphony No. 35 in D major, K. 385
Allegro con spirito

Andante

Menuetto

Presto
Symphony No. 41 in C major, K. 551
Allegro vivace

Andante cantabile

Menuetto: Allegretto – Trio

Molto allegro
Halloween Spooktacular Series
Skeletons & Superheros; Dinosaurs & Dolls
Charles-Camille Saint-Saëns
Franz Liszt
Totentanz Paraphrase on Dies irae, S. 126
Miniji Noh (piano)
Charles-François Gounod
Funeral March of a Marionette
John Towner Williams
Jurassic Park
Hans Florian Zimmer & James Newton Howard
The Dark Knight
Daniel Robert Elfman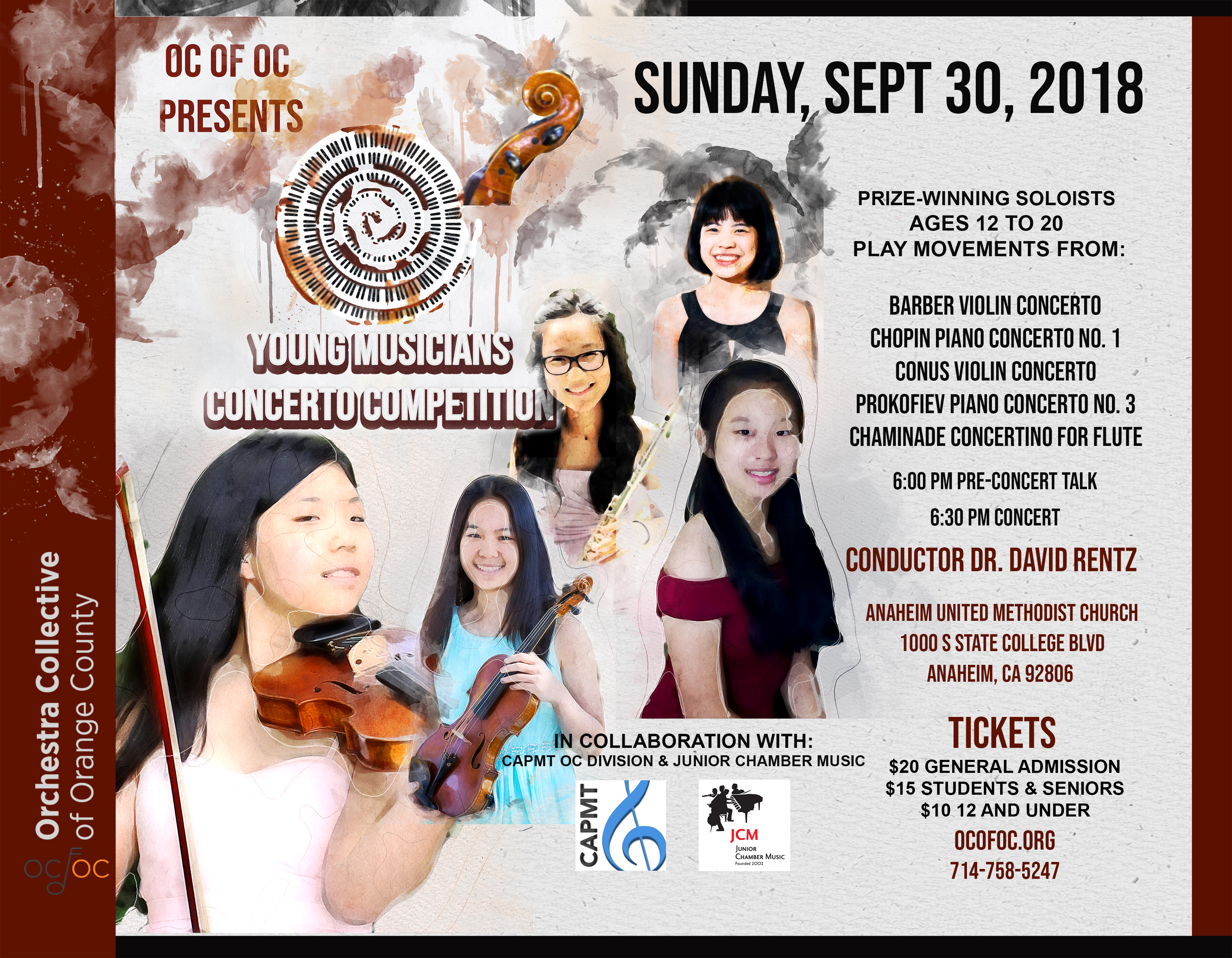 Sun, Sep 30, 2018
Anaheim United Methodist Church
1000 S State College Blvd
Anaheim, CA 92806
1 Civic Center Cir
Samuel Osmond Barber II
Frédéric François Chopin
Piano Concerto No. 1 in E minor, Op. 11
Jules Conus
Violin Concerto
Sergei Sergeyevich Prokofiev
Piano Concerto No. 3 in C major, Op. 26
Cécile Louise Stéphanie Chaminade
Flute Concertino in D major, Op. 107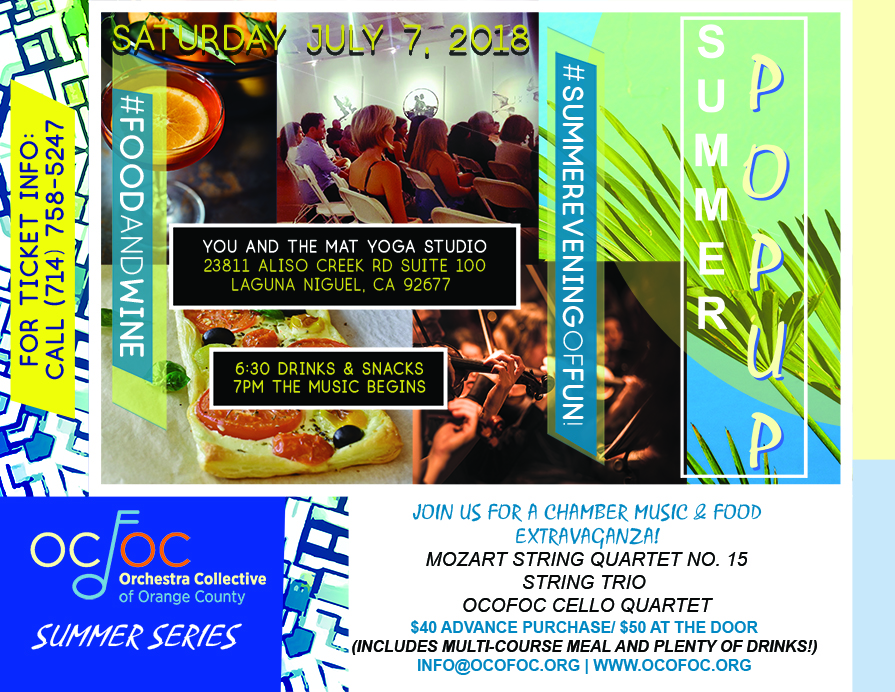 Sat, Jul 7, 2018
You and the Mat
23811 Aliso Creek Rd
Laguna Niguel, CA 92677
Second annual Chamber Pop-Up
Summer Pop-Up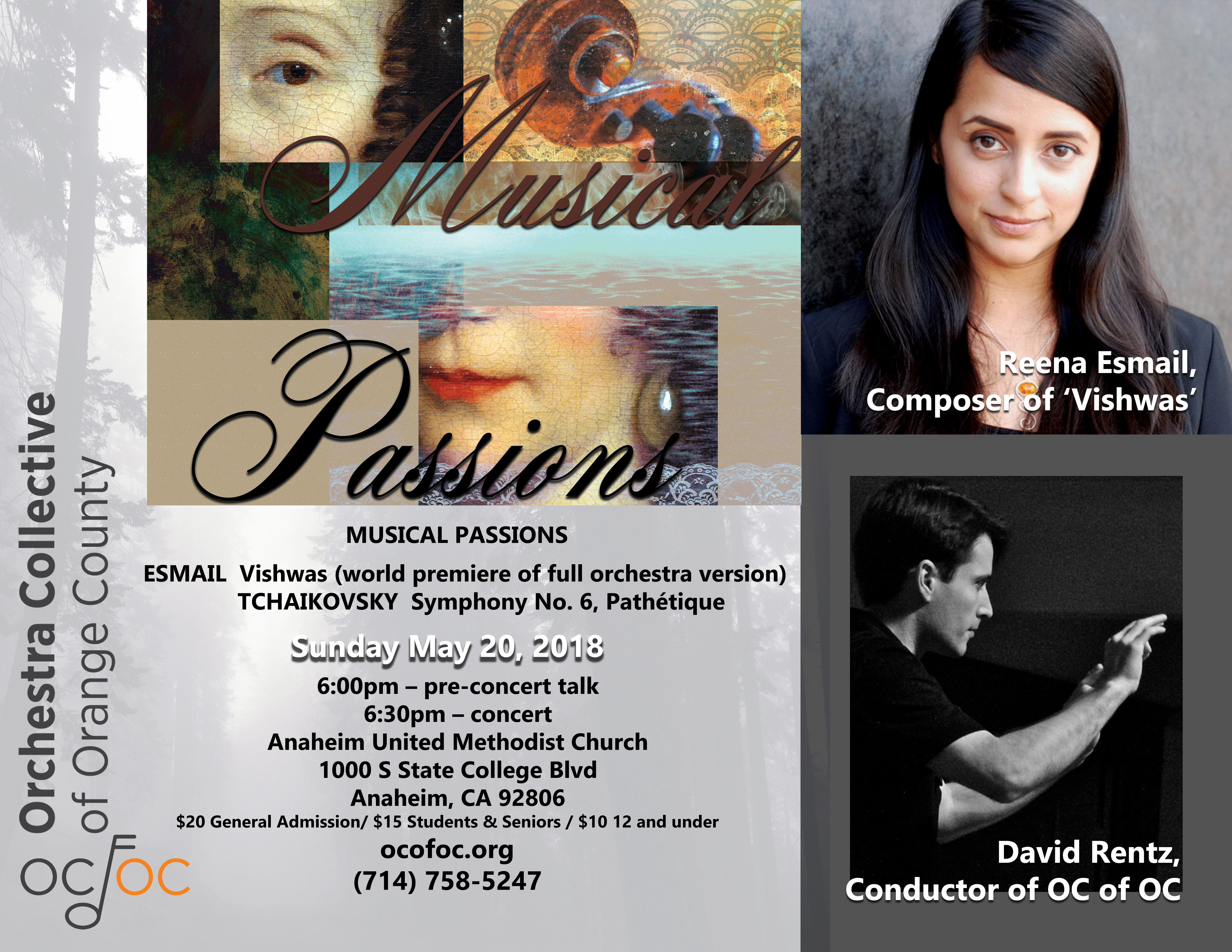 Sun, May 20, 2018
Anaheim United Methodist Church
1000 S State College Blvd
Anaheim, CA 92806
1 Civic Center Cir
Contemporary series
Musical Passions
Reena Esmail
Pyotr Ilyich Tchaikovsky
Symphony No. 6 in B minor, Op. 74 (Pathétique Symphony)
Adagio – Allegro non troppo 

Allegro con grazia 

Allegro molto vivace 

Finale: Adagio lamentoso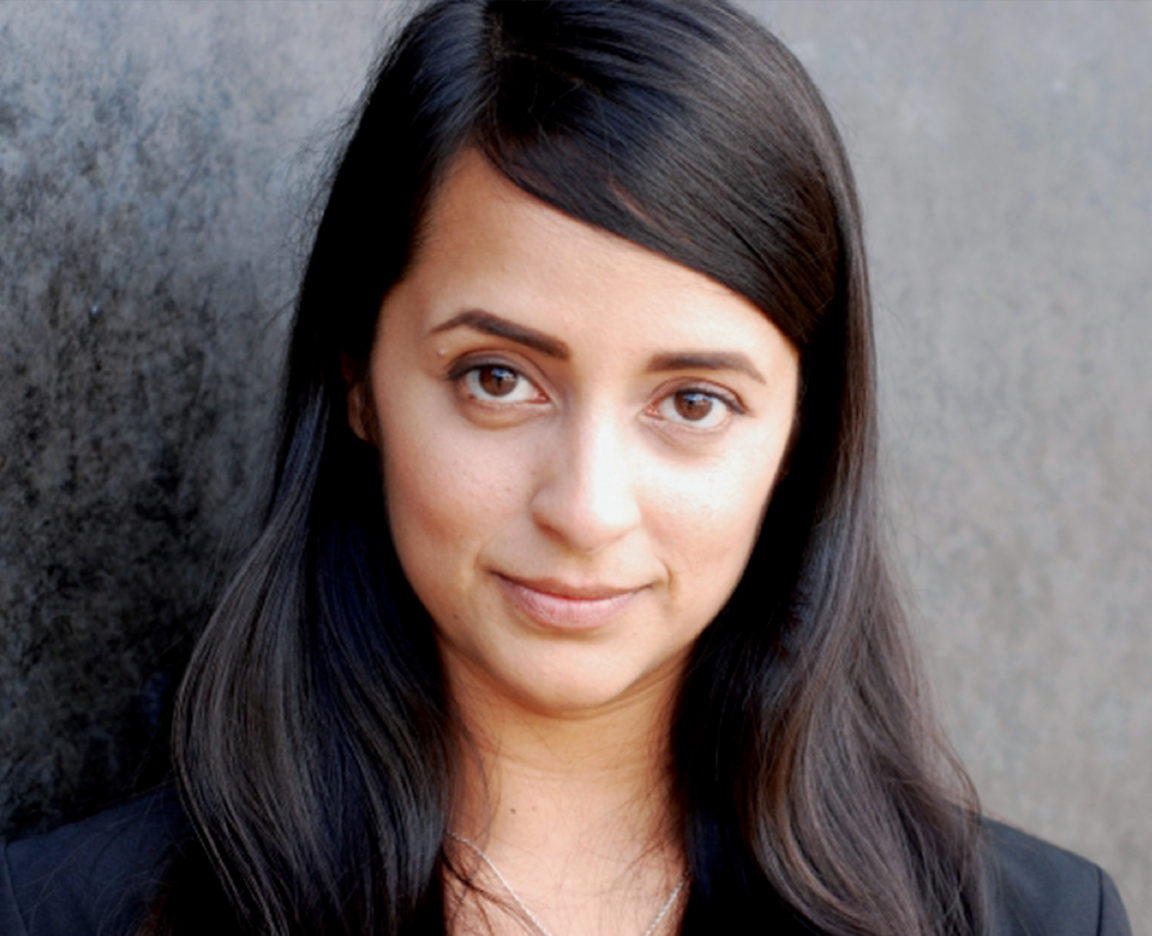 Reena Esmail
Composer
Indian-American composer Reena Esmail works between the worlds of Indian and Western classical music, and brings communities together through the creation of equitable musical spaces. 
Esmail's work has been commissioned by ensembles including the Los Angeles Master Chorale, Kronos Quartet,  Imani Winds,  Richmond Symphony,  Town Music Seattle, Albany Symphony, Chicago Sinfonietta, River Oaks Chamber Orchestra, San Francisco Girls Chorus, The Elora Festival, Juilliard415, and Yale Institute of Sacred Music. Upcoming seasons include new work for Seattle Symphony, Baltimore Symphony Orchestra, Santa Fe Desert Chorale, Amherst College Choir and Orchestra, Santa Fe Pro Musica, and Conspirare.
Esmail is the Los Angeles Master Chorale's 2020-2023 Swan Family Artist in Residence, and Seattle Symphony's 2020-21 Composer-in-Residence. Previously, she was named a 2019 United States Artist Fellow in Music, and the 2019 Grand Prize Winner of the S & R Foundation's Washington Award. Esmail was also a 2017-18 Kennedy Center Citizen Artist Fellow. She was the 2012 Walter Hinrichsen Award from the American Academy of Arts and Letters (and subsequent publication of a work by C.F. Peters)
Esmail holds degrees in composition from The Juilliard School (BM'05) and the Yale School of Music (MM'11, MMA'14, DMA'18). Her primary teachers have included Susan Botti, Aaron Jay Kernis, Christopher Theofanidis and Martin Bresnick, Christopher Rouse and Samuel Adler. She received a Fulbright-Nehru grant to study Hindustani music in India. Her Hindustani music teachers include Srimati Lakshmi Shankar and Gaurav Mazundar, and she currently studies and collaborates with Saili Oak. Her doctoral thesis, entitled Finding Common Ground: Uniting Practices in Hindustani and Western Art Musicians explores the methods and challenges of the collaborative process between Hindustani musicians and Western composers. 
Esmail was Composer-in-Residence for Street Symphony (2016-18) and is currently an Artistic Director of Shastra, a non-profit organization that promotes cross-cultural music connecting music traditions of India and the West.
She currently resides in Los Angeles, California.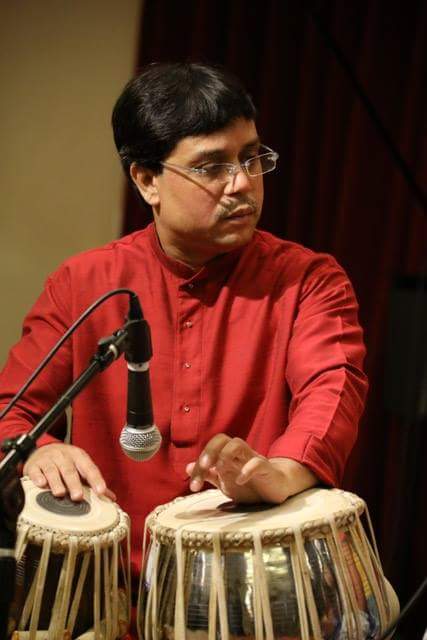 Jyoti Prakas
Tabla
Jyoti Prakas resides in the entertainment capital of the world, Los Angeles, and began his musical career at childhood from his father, Sri Nagendranath, and later with Pandit Brojen Biswas and Sri Sumantra Guha. As his passion and experience playing tabla progressed, he came under the tutelage of Pandit Abhijit Banerjee, one of the most renowned tabla players in India today.
Jyoti Prakas has performed extensively in India and United States, and in the presence of Sitar maestro – Pt. Ravi Shankar and highly acclaimed Hindustani vocalist—Vidushi Girija Devi. He has accompanied various internationally acclaimed musicians like Pt. Jasraj, Vidushi Purnima Chowdhury, and Viraj Amar on vocal, Pt. Keshav Ginde on flute, Pt . K.Sidhar on sarod, Pt. Tarun Bhattachrya on Santoor, Kathak Dancer Pt. Chitresh Das, Tap Dancer Jason Samuel Smith, just to name a few. He has also played tabla in the prestigious "EMMY AWARD 2005."
He has participated in community programs organized by the San Diego Museum and delivered lecture demonstrations in La Jolla Elementary School, San Diego, Whittier College, Whittier, and Concordia University, Irvine. Jyoti Prakas has also performed at the Drum Festival at the University of Riverside, California.
Jyoti Prakas has worked as an Assistant Music Director for a telefilm on Child Psychology for Kolkata Television. He has performed in All India Radio and Television, conducted workshops in West Bengal, India, and also been on the panel of judges for various music competitions arranged by the University of Calcutta, India. He has taught for several years in various institutions in India and has been teaching since 2004 at the Southern California Chapter of the prestigious music school DHWANI ACADEMY OF PERCUSSION MUSIC, founded by Pandit Abhijit Banerjee.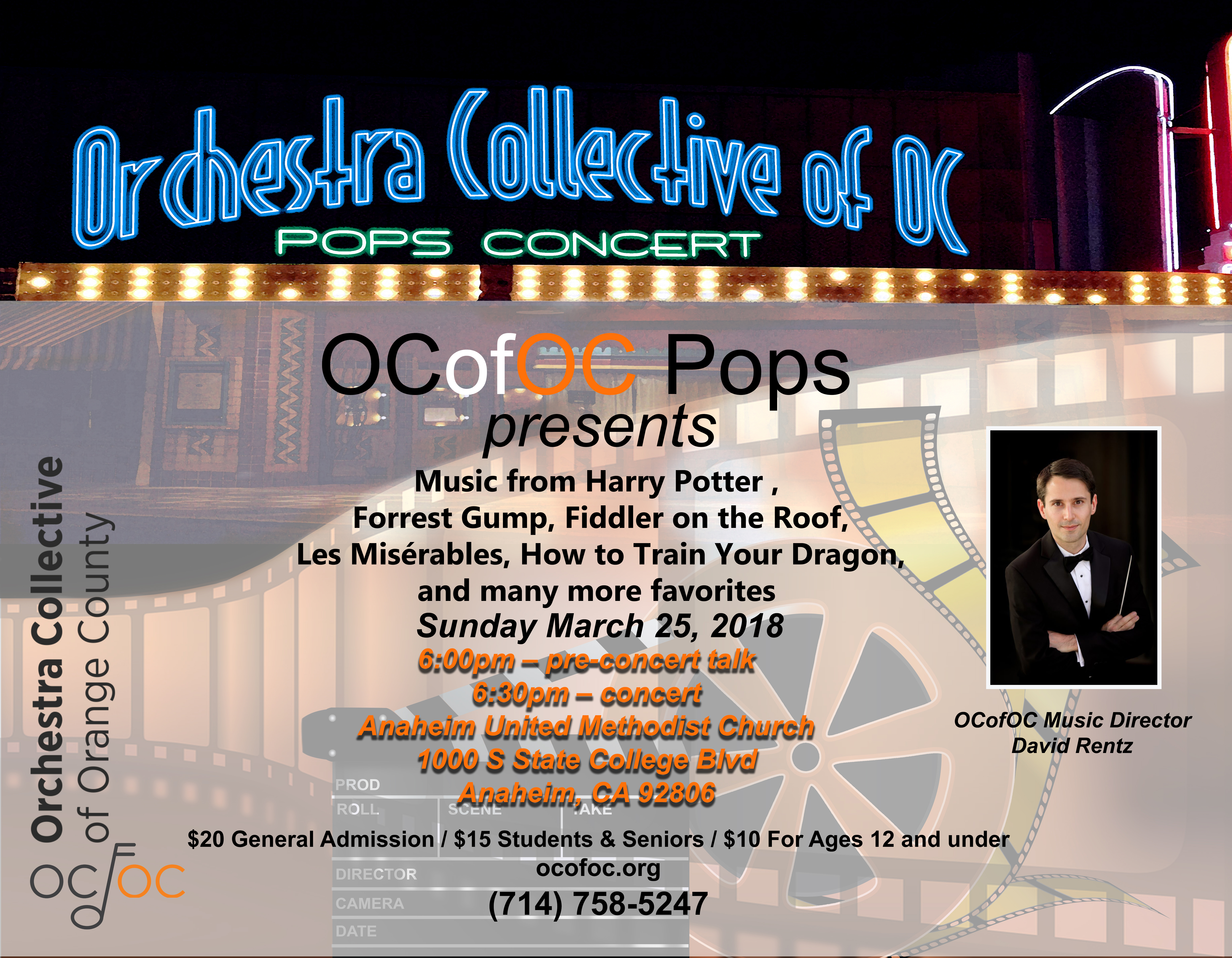 Sun, Mar 25, 2018
Anaheim United Methodist Church
1000 S State College Blvd
Anaheim, CA 92806
1 Civic Center Cir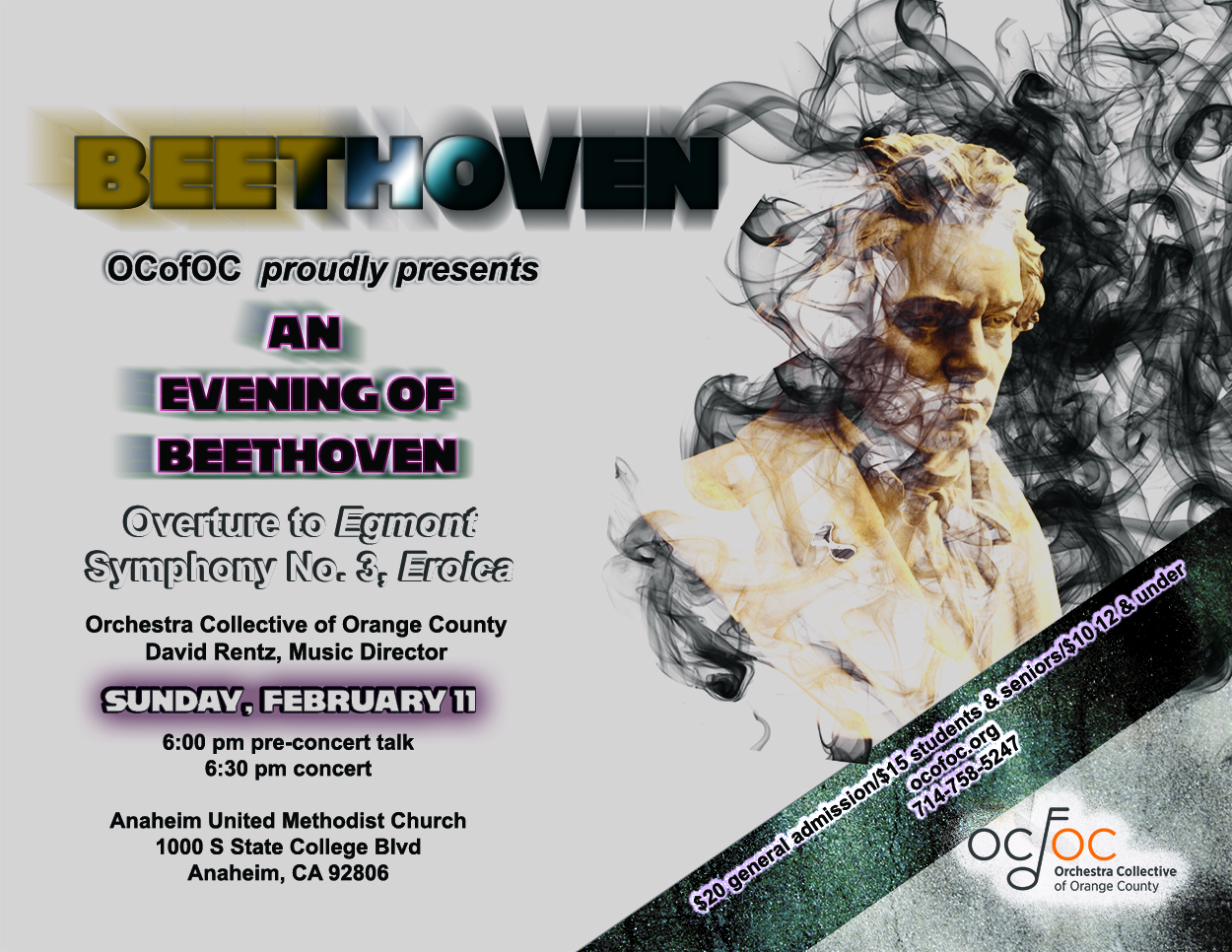 Sun, Feb 11, 2018
Anaheim United Methodist Church
1000 S State College Blvd
Anaheim, CA 92806
1 Civic Center Cir
An Evening with … series
An Evening with Beethoven
Ludwig van Beethoven
Egmont, Op. 84
Overture: Sostenuto, ma non troppo – Allegro
Symphony No. 3 in E♭ major, Op. 55 (Eroica)
Allegro con brio

Marcia funebre: Adagio assai 

Scherzo: Allegro vivace 

Finale: Allegro molto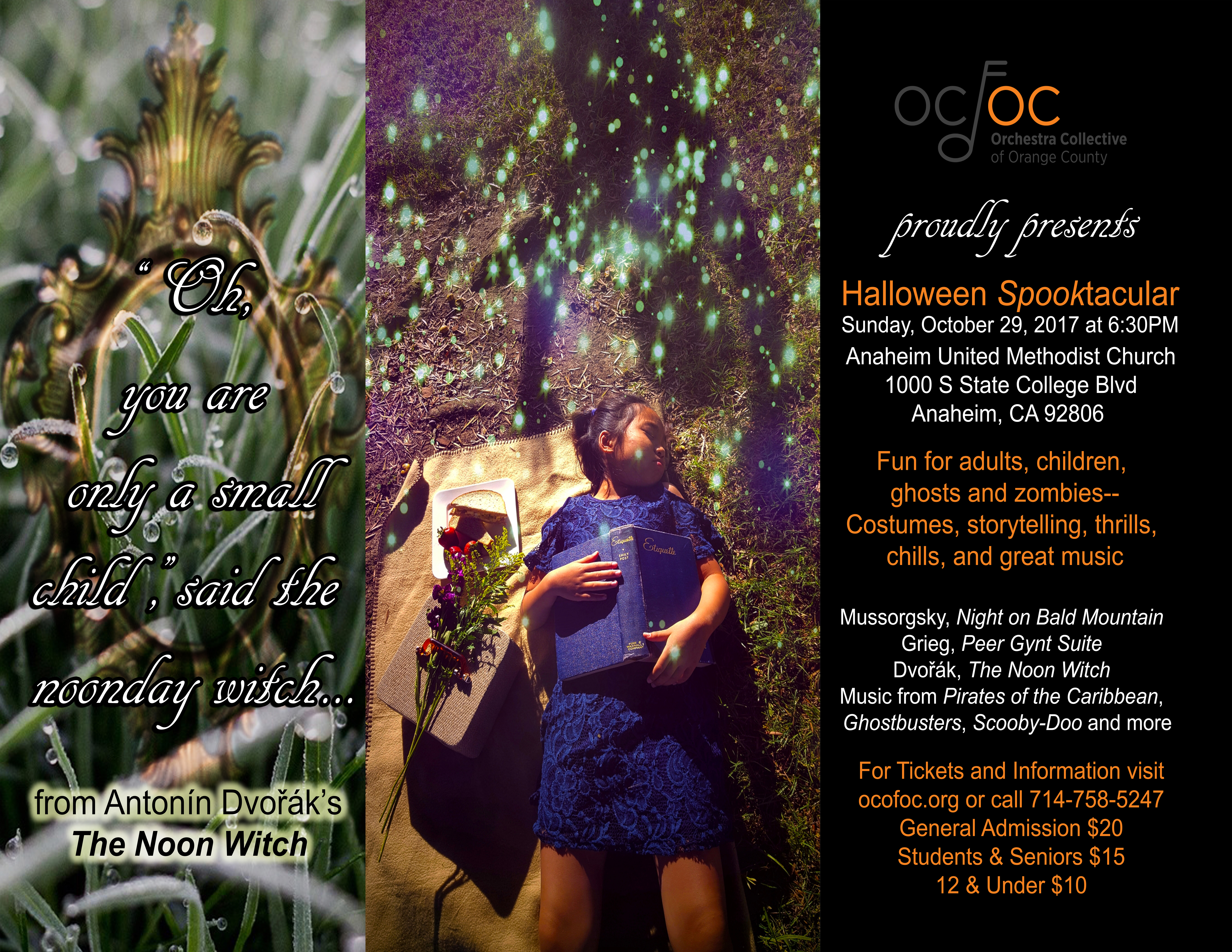 Sun, Oct 29, 2017
Anaheim United Methodist Church
1000 S State College Blvd
Anaheim, CA 92806
1 Civic Center Cir
Halloween Spooktacular Series
Halloween Spooktacular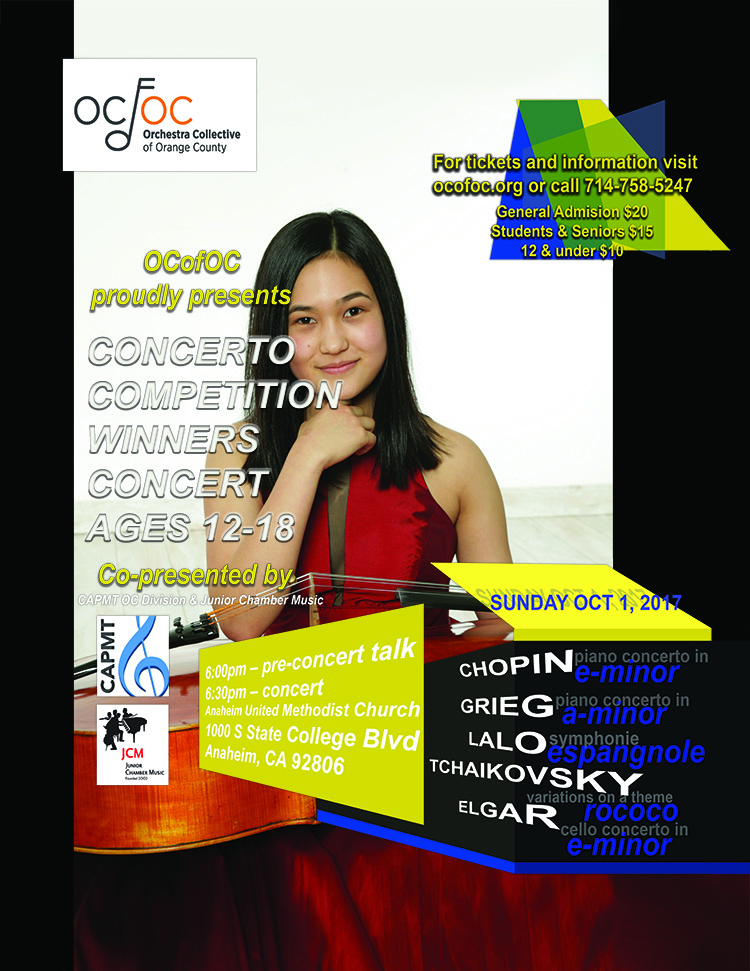 Sun, Oct 1, 2017
Anaheim United Methodist Church
1000 S State College Blvd
Anaheim, CA 92806
1 Civic Center Cir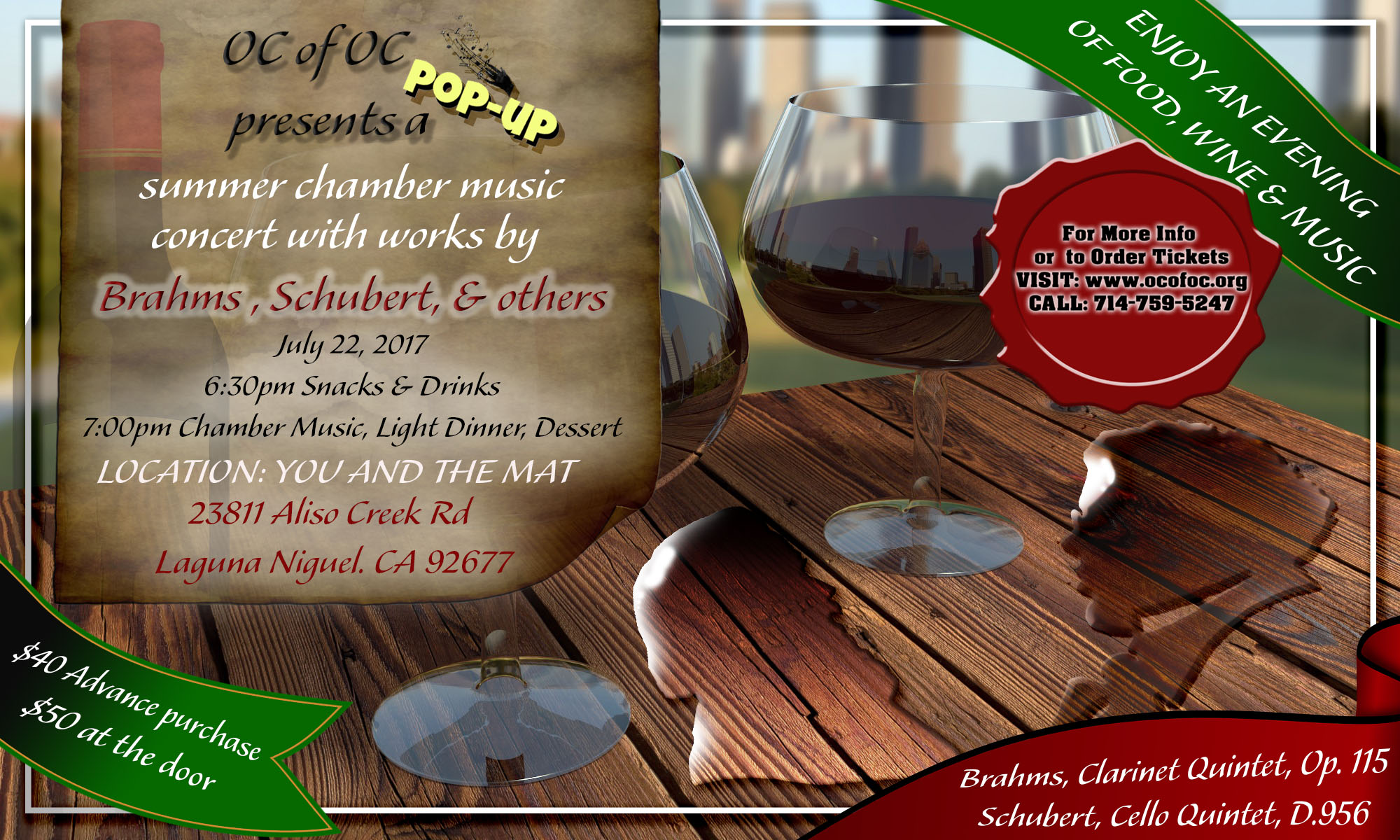 Sat, Jul 22, 2017
You and the Mat
23811 Aliso Creek Rd
Laguna Niguel, CA 92677
Chamber Music Pop-Up Series
Summer Pop-Up Concert
Johannes Brahms
Clarinet Quintet in B minor, Op. 115
Allegro

 

Adagio

 

Andantino

 

Presto non assai, ma con sentimento

Con moto

 
Franz Peter Schubert
String Quintet in C major (D. 956, Op. posth. 163)
Allegro ma non troppo
Adagio
Scherzo. Presto – Trio. Andante sostenuto
Allegretto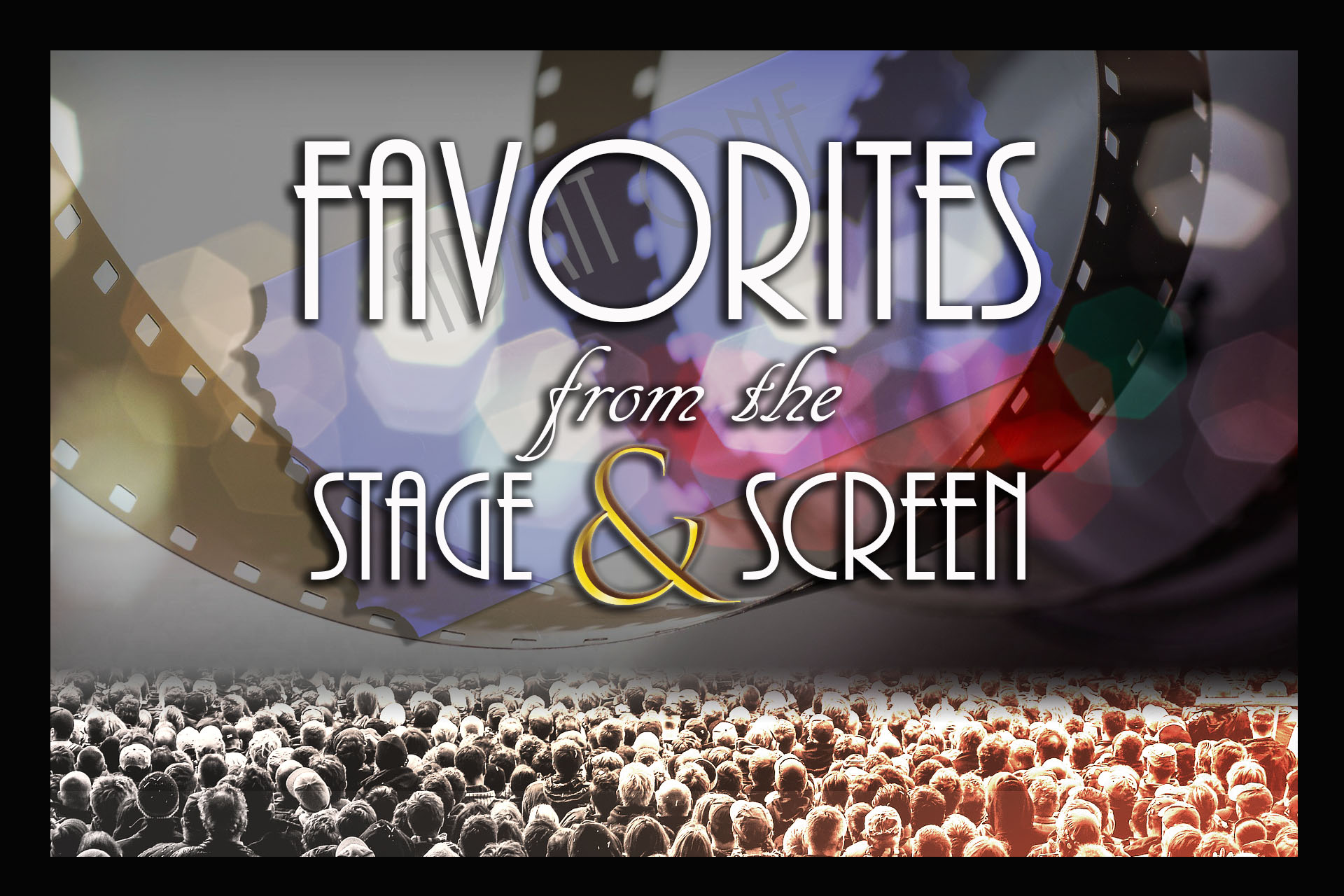 Sat, May 21, 2017
First Presbyterian Church of Garden Grove
11832 Euclid St
Garden Grove, CA 92840
Pops Series
Favorites from the Stage & Screen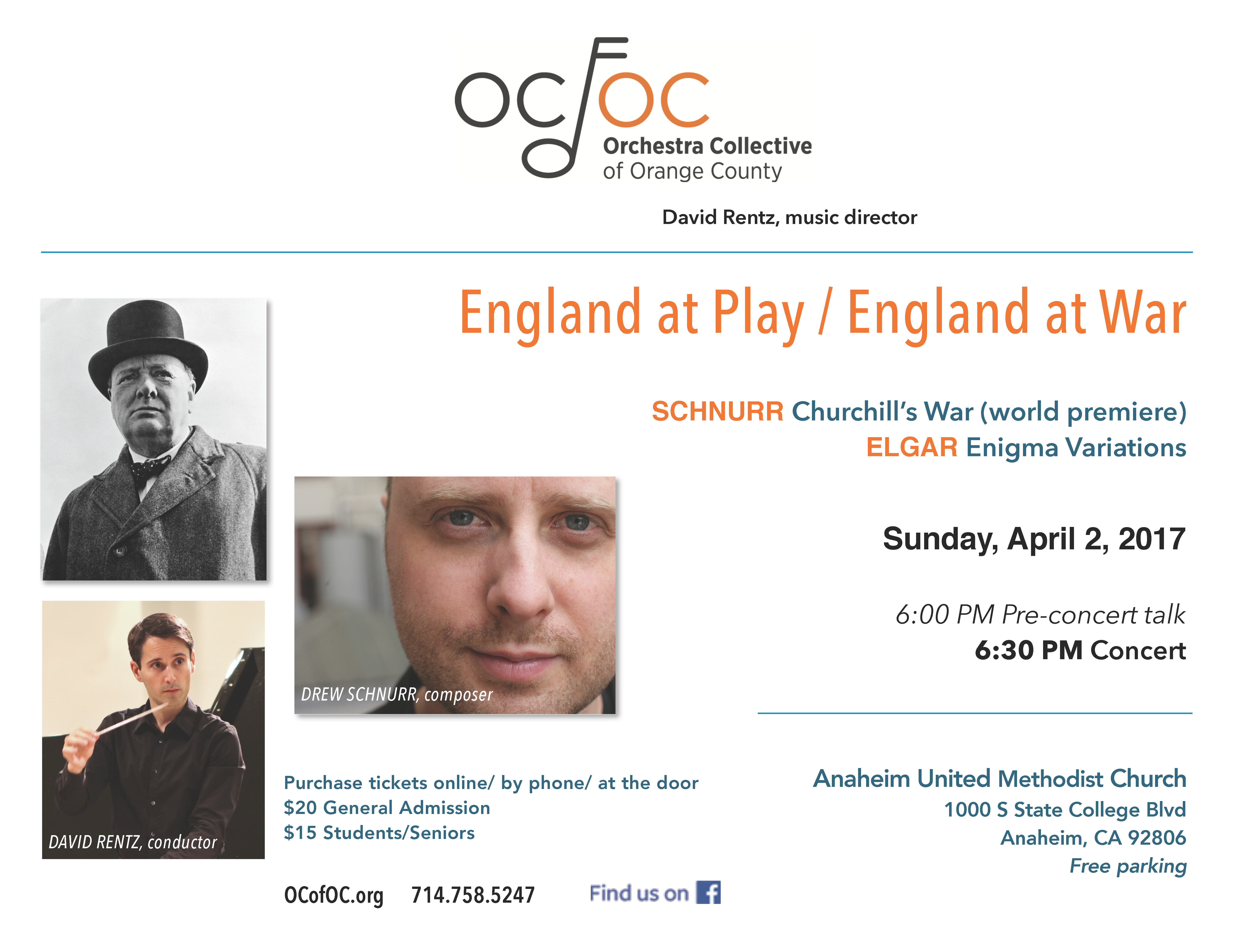 Sun, Apr 2, 2017
Anaheim United Methodist Church
1000 S State College Blvd
Anaheim, CA 92806
Contemporary Series
England at Play/England at War
Drew Schnurr
Churchill's War (world premiere)
Edward William Elgar
Variations on an Original Theme, Op. 36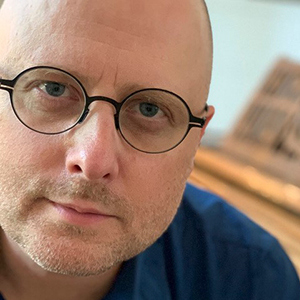 Drew Schnurr
Composer
Drew Schnurr is a Los Angeles composer, sound artist, theorist, and performer blurring traditional lines in media and musical genre. Schnurr's wide-ranging experience in classical music, electronic music, rock, jazz, Latin music and other international music forms combined with his expertise in modern sound design, music production and audio technology, informs his diverse approach. Over the past decade, his works have been performed nationally and internationally at various festivals and venues including the Ford Amphitheater, Harris Hall in Aspen, CO, the Forge, London, UK, and as a featured composer at the Chamber Music Festival of Lexington and the highSCORE Music Festival in Pavia, Italy, while his scoring and sound design work has been featured on various television networks, and internationally on film screens and in galleries. Schnurr is acclaimed as an innovative solo performer playing traditional stringed instruments mixed with electronic sounds in live improvisation. His current creative work engages multiple levels of visual, music, and social culture.
Recent projects include a commission by renowned new music Dutch harpsichordist Goska Isphording with a 2015 Netherlands concert premiere, a commission and composer feature concert with the London-based RIOT ENSEMBLE in 2014, and a new commission presented by Providence New Music Premieres in 2013. Past commissions include works composed for performances at the Ford Amphitheater, Harris Hall, the Regina Klenjoski Dance Company, members of the Hysterica Dance Company, the International Design Conference Aspen, and the music for a highly successful multi- media event in downtown Los Angeles entitled Persee: Orchestrated Perception, which Schnurr also produced. Upcoming projects include a concert commission by Fundación Música AntiquaNova (Buenos Aires), a commission by African-American Metropolitan Opera soprano Karen Slack to compose song cycle based on lives of African warrior queens, a concert commission by St. Louis Orchestra principal harpist Allegra Lilly, and a commission by Los Angeles Opera librettist and director Richard Sparks.
Schnurr's composition work in film has been featured at international film festivals including Cannes, Raindance, Berlin, Feratum, Festival Internacional de Cine de Pasto,
Rodando, Nocturna, Destival De Cine Acapulco, Honolulu, Santa Barbara, Monterey, Los Angeles, and New York. Schnurr's composing and sound design clients include the Los Angeles Philharmonic (designing the sound for the CELEBRATE: SALONEN website commemorating Esa-Pekka Salonen's tenure with the orchestra), Sony Ericsson, Dodge, Yamaha, Wieden + Kennedy, Nike, Hyundai, Southwest Airlines, Google, 20th Century Fox, Paramount Entertainment, Live Earth, and Much Music USA. Schnurr's electronic sound compositions composed in collaboration with artist Rebeca Mendez have been presented internationally including exhibits at the Beal Center for Art and Technology, the ARCO Madrid 29th International Contemporary Art Fair, the Museo de Arte Contemporáneo de Oaxaca (MACO), the Beijing Art Nova exhibition, the Venice 10th Arte Laguna Art Prize Exhibition, the IV Bienal Ciudad Juárez / El Paso Biennial 2015 exhibition, and the 2015 Istanbul Light Festival. On the double bass, Schnurr has performed extensively across the US, Europe, and Japan, and with symphony orchestras including the Los Angeles Camarata Symphony, San Bernardino Symphony, and Kalamazoo Symphony.
Schnurr was on faculty at the UCLA Department of Design Media Arts from 2005 to 2011 where he taught Sound and Sonic-Visual Aesthetics. In 2013, he completed his PhD in composition from UCLA. He has since returned to UCLA, serving on faculty at the Herb Alpert School of Music, teaching Electronic Music and Sonic Arts. He previously studied Bass performance and Jazz Studies at Western Michigan University and was recipient of a Masters in Double Bass Performance from the Thornton School of Music at the University of Southern California.
Drew Schnurr has commercial releases of both film and concert music with German record label Coviello Classics (Hamburg) with distribution through NAXOS, and with Ludwig Records on iTunes. Planning is underway with production to begin in 2018 on Schnurr's next international release with Coviello.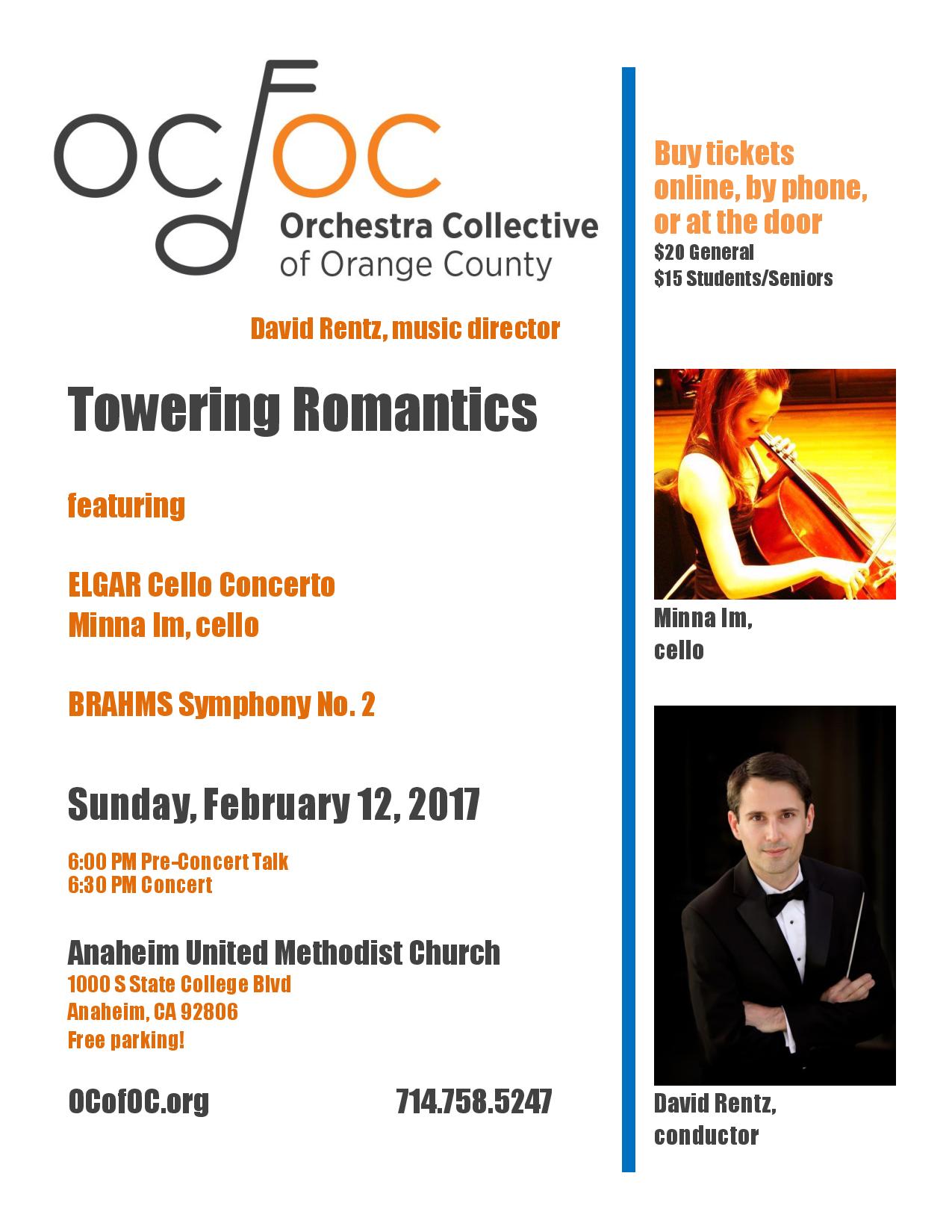 Sun, Feb 12, 2017
Anaheim United Methodist Church
1000 S State College Blvd
Anaheim, CA 92806
Edward William Elgar
Cello Concerto in E minor, Op. 85
Minna Im (cello)
Johannes Brahms
Symphony No. 2 in D major, Op. 73
Allegro non troppo

Adagio non troppo

Allegretto grazioso (quasi andantino)

Allegro con spirito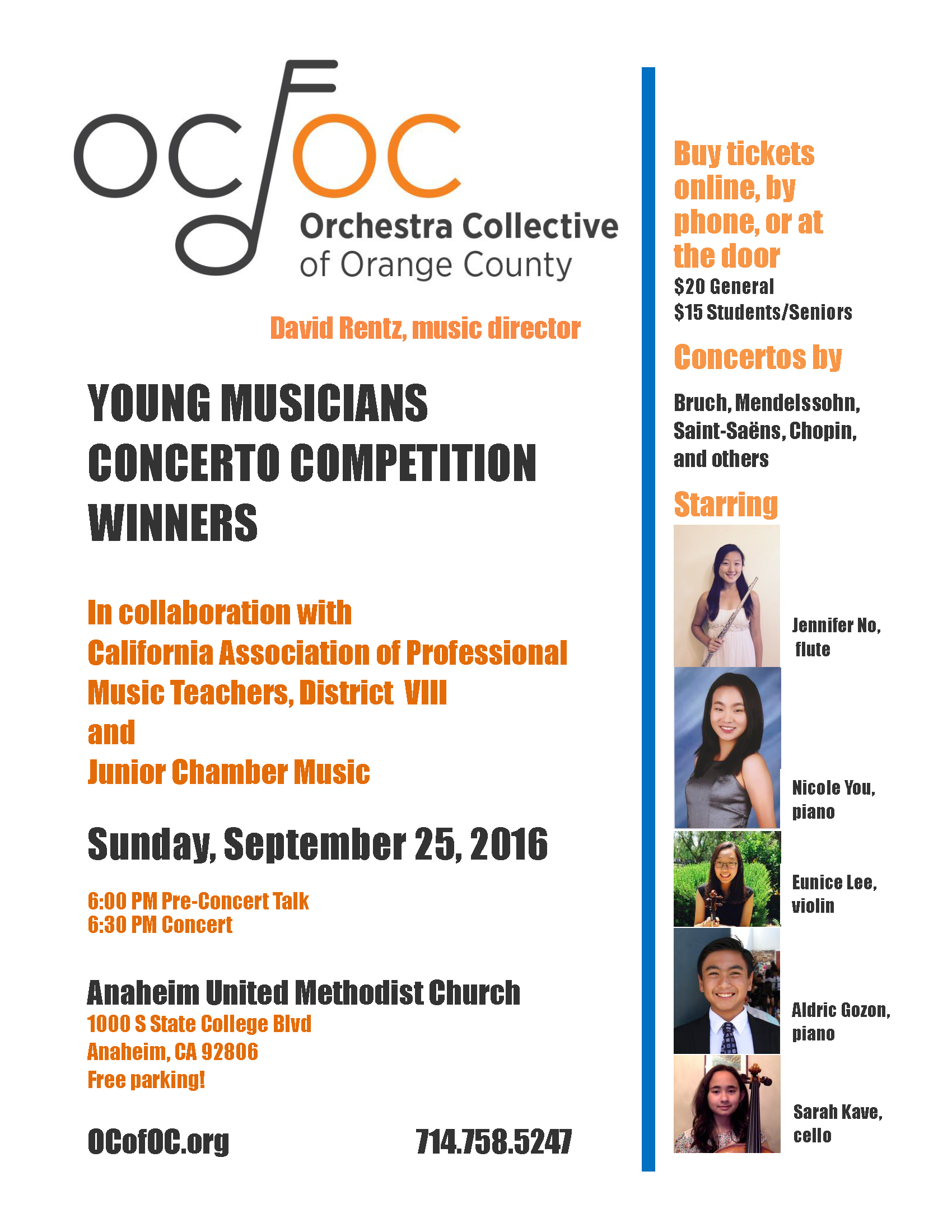 Sun, Sep 25, 2016
Anaheim United Methodist Church
1000 S State College Blvd
Anaheim, CA 92806