Concert Details and Tickets – Young Musicians Concerto Competition Winners
OCofOC Inaugural Concert!
Program Notes – September 25, 2016 concert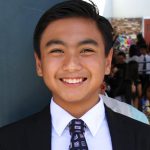 Aldric Gozon,14,
is a sophomore high school student from Fullerton, California. He was born in the Philippines and immigrated to the United States at the age of 2. He began playing the piano at the age of 5 under the direction of Ms. Molly Nguyen at Little Chopin Piano School. He completed the Certificate of Merit Advanced Level at age 10. He has taken part in several piano competitions, including the US Open Music Competition, South Western Youth Music Festival, Musical Arts Club of Orange County, and California Association of Music Teachers, and has taken home the grand prize in most of them. He won 1st place at 2014 Los Angeles International Liszt Competition and 2nd place at 2015 American Protégé International Concerto Competition. He performed at Carnegie Hall in New York in December 2015.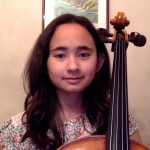 Sarah Kave, 12,
began studying cello at the age of 5 with Rachel Lonergan and is currently studying with Andrew Cook. Sarah has been with the CSUN Youth Orchestra (CSUNYO) for 6 years and is the principal cellist. She won numerous competitions; the V.O.C.E State (3rd), Liana Cohen Open Festival (1st), the Grand Prize in Satori Strings, and is a winner of the CSUNYO Concerto Competition. She has also won the Junior Chamber Music Concerto Competition, and The Young Musicians Foundation Debut Concerto Competition. Her piano trio had a masterclass with the LA Philharmonic's principal cellist, Robert DeMaine, as well as others. Recently, she performed at the Israeli American Council, The Walt Disney BP Hall for the Motif Awards, Youtube Space LA, Zipper Hall, the Temple of The Arts and, with her twin brother, has performed at Temple Kol Tikvah for years. Sarah loves to do community service because she believes in giving back to the community. She has performed at senior homes, the Tokyo Library, the Veteran Administration Hospital, and the Blind Children's Center. She is a recipient of the CSUN, David Weiss, and the LACESMA scholarship. She attends Millikan Middle School. In her spare time, she loves to read, play guitar, do Musical Theatre, and perform with Joshua, her twin brother who plays the violin. She takes an interest in Marine Biology as well. She is a strong believer in preserving wildlife, and saving orphaned creatures.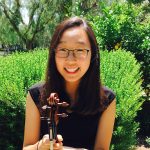 Eunice Lee, 13,
is an 8th-grade student at Orchard Hills Middle School. She started playing the violin at the age of 5. Since the summer of 2013, she has been studying under the guidance of Cheryl Kim at the Colburn School. From 2015-2016, she won several awards in various competitions, including 1st place in the MTAC competition, 1st place in ASTA LA Final, and she advanced to the 2016 State Finals. Eunice also won 1st place in the 2016 SYMF American Composers Category and the Open Category, as well as 1st place in the JCM-OCofOC concerto competition, and was chosen to perform with the Orchestra Collective of Orange County. Aside from violin, Eunice also plays piano and enjoys traveling with her family.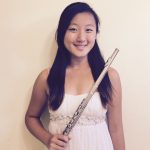 Jennifer No,16,
is a sophomore at West Ranch High School. Music started becoming a part of her life when she began playing the piano at age 5. After she became more exposed to music and fell in love with it through the years, she began playing the flute at age 9 under Jennifer Lee. During her early years, she participated in many of her local music programs, such as her school band, District Honor Band, and the California All-State Symphonic Band. Through these activities, she was able to perform both as a soloist and the principal chair, and was able to receive a musical scholarship. She also participated in the Southwestern Youth Music Festival and received a 1st place award in 2011. After these experiences, she joined organizations and groups such as Junior Chamber Music and the CSUN Youth Philharmonic, which helped her expand her musical knowledge even more. Through JCM, Jennifer received 3rd place in the VOCE State Final in 2015, and was able to attend the Montecito International Music Festival with a scholarship. More recently, Jennifer performed with the Santa Clarita Philharmonic as the winner of the 2015 Santa Clarita Concerto Competition. She has also won 1st prize in the 2016 CAPMT Regional Concerto Competition for her division and 2nd at the 2016 CAPMT State Concerto Competition. She also received a full scholarship to the Idyllwild Summer High School Chamber Festival. Outside of music, Jennifer enjoys watching movies with her friends and playing tennis with her school tennis team.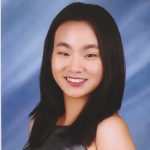 Nicole You,
began her piano studies at the age of six and currently studies with Felix Tao Chang. She lives in Orange County, California and has won multiple competitions across California. Several include prizes from SYMF, the Elvin Samuel McGaughey Music Foundation Piano Competition, and CAPMT. She has attended the Colburn Music Academy Piano Festival, and previously attended the Colburn Music Academy.