Concert Details and Tickets – Young Musician Concerto Competition
Return to Engaging with the Orchestra
Irene Lee, 14,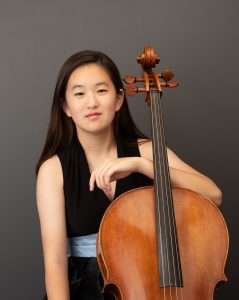 has been recognized as a "talented virtuoso with a sound that truly captivates" (Bellflower Citizen). She is a frequent and integral member of the winners' circle, taking first place in competitions such as the Bellflower Symphony Concerto Competition, ASTA Pomona Regionals and LA Finals, JCM Concerto Competition, and SYMF Baroque Open. She also received second prize at the 47th Edith Knox Performance Competition, Classics Alive National Auditions, and the Culver City Parness Concerto Competition. As a freshman, Irene served as principal cellist of the 2019 CASMEC All-State High School Symphony Orchestra. She also performed with Pacific Symphony Santiago Strings in 2016, and as principal and soloist in the 2017 season. In November, she will join the 2019 All Nationals Honor Symphony Orchestra in Orlando, Florida. Irene has performed for Midori, Philharmonic Society of OC and IUSD Board of Education. Also an avid chamber musician, Irene is the cellist for the Meisll Trio, which received Second Prize and the Beethoven Award at the Pasadena Conservatory National Chamber Music Competition. Irene is currently studying with Prof. Joon Sung Jun and has also received private instruction from Prof. Hans Jørgen Jensen. Irene attends Northwood High School and spends her free time reading philosophy.
Jiyu Lee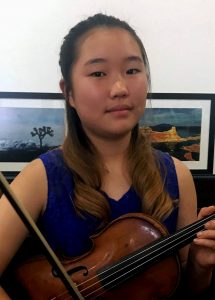 (violin) was born in South Korea and moved to California when she was four months old. She is now eleven years old and is in sixth grade at Robert C. Fisler School (Fullerton). She has studied the violin since the age of three and has expanded her musical horizons by performing solo and chamber music and as a member of an orchestra. Jiyu has been recognized with numerous awards, including first place at the Southwestern Youth Music Festival Competition in 2015, first place at 2019 Junior Chamber Music Concerto Competition, and second place at the Music Teachers Association of California Concerto Competition. She joined the Junior Chamber Music in the fall of 2018 and it has helped her to realize her passion for chamber music and her desire to spread the joy of music as part of her trio. She was assigned the first chair in her school's orchestra in 2017 and also participated in her school's band playing the flute in 2018. Jiyu studies violin with Dr. JinHee Kate Kim, violin professor at California Baptist University in Riverside with a private studio in Irvine.
Nicole Ho, age fifteen,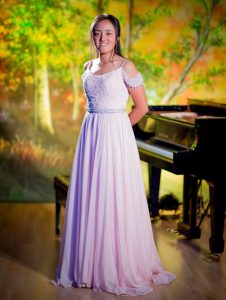 is a sophomore at Arcadia High School. At the age of two, her mother introduced her to the piano and Nicole has been glued to the instrument ever since. Nicole has competed in numerous national and international competitions winning a variety of awards including first place in the United States Open Music Competition for Classical Category, as well as third place in the United States Open Senior Division for Treasury of Romantic Composers and second place at the Southwestern Youth Music Festival in the Open Chopin category. Earlier this year, she traveled to Paris to perform in the Amphitheatre of Cité de la musique as the first place prize winner in the Grand Prize Virtuoso International Music Competition. Nicole has been fortunate to have trained under the instruction of pianists Nghiêm Phú Phi, Bao Minh, and her current teacher, Molly Nguyen (Little Chopin Piano School Principal). Beyond piano, Nicole has played the violin for nine years, and is a golfer, competing in tournaments held by the Junior PGA Tour. During her few moments of leisure, she enjoys fashion and photography.

Peter Choi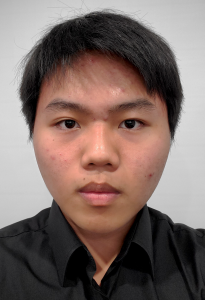 was introduced to music at the age of four, beginning his studies in piano and shortly thereafter starting to learn the violin. Later, finding the sound of the cello alluring, and with a newfound interest in music, he decided to switch to the cello at the age of eight. Peter currently attends Sunny Hills High School (Fullerton), previously studied with Janet Shulman, and is currently under the tutelage of Andrew Shulman. He has attended the Meadowmount School of Music over the summers of 2017 and 2018 under the guidance of Hans Jørgen Jensen (17'&18') as well as Julia Lichten (17'). He was also a member of Junior Chamber Music for the 2018-2019 season as part of a piano trio. Peter aspires to pursue music performance as his career and hopes to experience the world of classical music to its fullest.

Bella Dang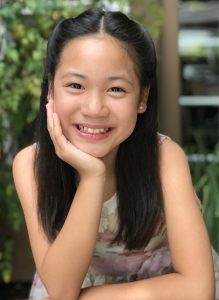 from Orange County, California, comes from a family whose mother is a professional Vietnamese entertainer and father a health-care provider. She was born in the United States, but her roots are from Vietnam. A fifth-grader at a private Catholic junior high school, she likes to play soccer and volleyball, swim, dance, sing, surf, and play the piano. Bella began studying piano at the age of four, and, to her parents' astonishment, she excelled and ascended to an advanced level at a quick pace, all thanks to Miss Molly Nguyen, her teacher at Little Chopin Piano School. Bella started to enter competitions, at first locally, then regionally, nationally, and internationally. She also appeared on Vietnamese local television playing the piano while her mother sang. Bella really enjoys participating in these competitions, as they give her the opportunity to meet other talented young people, as well as help her learn to be more focused and self-confident as a performer. Her goal is to have the opportunity to travel the world and share her musical skill, sharpen her skills, continuing her education, and, with persistence, making a name for herself in the musical world.
Po Han Chiu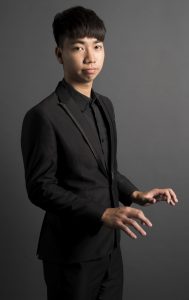 , a native of Taiwan, discovered his interest in playing the piano at the age of 5, and demonstrated considerable talent almost immediately, participating in various piano competitions just one year after beginning piano studies. Po-Han was granted the admission into Chung Cheng Junior High School, and was awarded the 2nd prize in National Student Competition of Music, piano trio division. After graduation, Po-Han was admitted into Kaohsiung Senior High School with the highest score among 100 contestants. He received many awards during while at KSHS, including two consecutive first prizes in the piano quintet division, first prize in solo division of National Student Competition of Music, and first prize in the annual KSHS Piano Concerto Competition. Upon graduation, Po-Han received a residential waiver to study at California State University, Fullerton, along with a full scholarship for his entire course of study at CSUF. More recently, in January 2018, Po-Han performed Rachmaninoff's second piano concerto with Berlin Symphony Orchestra in Pingtung Performing Arts Center. Po-Han is a student of Professor Ning An.
Guest Conductor and Former Concerto Competition Winner!
Victor Shlyakhtenko,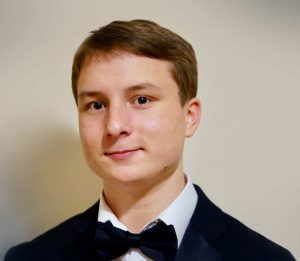 17, studies orchestral conducting with Maxim Eshkenazy. Victor has previously soloed on piano with the Orchestra Collective of Orange County in 2017. Victor made his conducting debut with the South Coast Symphony as a winner of the Young Stars of the Future competition. In May, he participated in the International Conducting Institute Workshop in Boulder, CO. As a pianist, Victor performed in Carnegie Hall under the auspices of the InterHarmony Music Festival, and at the Walt Disney Concert Hall as a Grand Prize Winner of The Music Center's Spotlight competition. Victor's honors in 2019 include Grand Prize in the Glendale Piano Competition, 2nd place in the Viriginia Waring International Concerto Competition, and selection for the MTAC's Young Artist Guild. In November, he will perform in the Leipzig Gewandhaus with the Akademisches Orchester Leipzig. Victor made his concerto debut with Dr. David Rentz and the Orange County Symphony at the age of 12. Since then, he has appeared with ten orchestras in the U.S., performing concerti by Beethoven, Chopin, Grieg, Liszt, Mendelssohn, and Mozart. Passionate about community engagement, Victor regularly performs in several outreach concert series. Victor's other interests include cooking, marine biology, and studying foreign languages. He intends to pursue a double major in piano performance and conducting.