Concert Details and Tickets – Young Musician Concerto Competition
Return to Engaging with the Orchestra
Celine Chen, 14,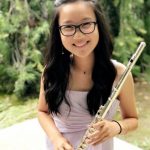 made music part of her life when she began learning piano at age four. She then picked up flute at age nine under Mary Cervantes. Celine has been accepted in the Hart District Honor Band as Principal Flute, the All Southern California School Band, and the California All-State Band. She has also participated in the Music Teacher Association of California (MTAC) Scholarship Competition and received 1st place. Celine has performed with the Santa Clarita Philharmonic as a winner of the 2017 Santa Clarita Concerto Competition. She also received a Gold Medal from the Southern California Junior Bach Festival Complete Works. Recently, she won the American Protégé International Romantic Competition, and was invited to play at Carnegie Hall. Celine plans to pursue music, both as a pianist and flutist, in the future.
Michelle Fan, 13,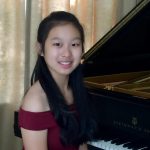 started her formal music training under the guidance of teacher Ariel Yang at age 6. Michelle received 1st place at the 2013 San Jose Russian Music International Piano Competition and has performed at the Weill Recital Hall at Carnegie Hall in New York. She was also a 1st prize winner at the 2014 and 2017 Glendale Piano Competition. In 2015, she was a winner in the Rosalyn Tureck International Bach Competition in New York. She was named first alternate for both the MTAC State Concerto (2016) and Solo (2017) Piano Competition. Michelle is the youngest winner of the 2016 biannual International Liszt Competition and was invited to represent the Liszt Society Los Angeles chapter in performance at the 2017 American Liszt Society Festival in Northwestern University, Chicago. Also in 2017, she competed in and won the Southern California Philharmonic Young Artist Concerto Competition and performed with the Socal Philharmonic Orchestra in 2018.
Hsiao-Chi Shih, 20 years old,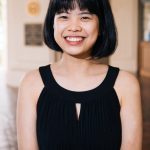 began playing piano at age five. She did not take it seriously until she turned 18, when she discovered her passion for music. In 2015, she moved from Taiwan to America to pursue her studies in music at Chaffey College. Under the guidance of Dr. Minji Noh Lee at Chaffey College, Hsiao-Chi won numerous awards in piano including 1st Place at the CAPMT (California Association of Professional Music Teachers) Contemporary Music Competition State Finals, 1st Place at the MTAC (Music Teachers Association of California) Orange County Branch Theme Festival, and 1st Place at the CAPMT Orange County Chapter Young Musicians Concerto Competition. In July 2017, she was invited to MTAC State Convention in Santa Clara to premiere a piano duet work by composer Lei Liang as part of the MTAC Friends of Today's Music program.  Aside from playing the piano, Hsiao-Chi enjoys playing the cello, cooking, and traveling. After successful transfer auditions, she will be studying with Professor Ning An at California State University, Fullerton in Fall 2018.

Emily Yang, 15,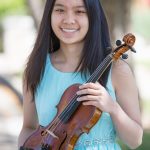 is a sophomore at Diamond Bar High School. She was concertmaster of 2018 SCSBOA honor symphony orchestra and currently serves as associate concertmaster of Claremont Young Musicians' Orchestra. She was a merit scholarship recipient for the 2017 Montecito International Music Festival attended Idyllwild Summer Music Festival this summer as a full merit scholarship student. In 2017-18, Emily won John Child Walker Competition, Musical Arts Competition of Orange County, Satori String Contest, and American Strings Teachers' Association Solo Competition. She was awarded first prize in MTAC Los Angeles County Branch Dozen Charitable Trust Fund Concerto Competition and was the winner of Claremont Young Musicians' Orchestra Concerto Competition. She has performed the Mendelssohn Violin Concerto with MTAC/APU festival Orchestra and Claremont Young Musicians' Orchestra. Emily's teachers have included her mother Dr. Amanda Yang, Janice Luna, and Jin-Shan Dai. She currently studies with Samuel Fischer at the Colburn School.

Anna Yoo, 12,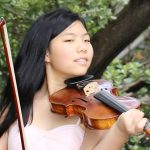 has been playing violin for seven years.  When she was nine, she was invited to play the Bach double violin concerto as soloist with orchestra at the Los Angeles Suzuki Institute. She loves to play chamber and orchestral music and was the youngest member ever invited to play with the Eastern Sierra Symphony. In the 2017-18 academic year, Anna won 1st place in the JCM concerto competition, honorable mention at the Parness Concerto competition, 1st place in the CAPMT honors regional competition and honorable mention at the state finals. She was also a SCJBF regional winner and won 2nd place in the Korea Times Music Competition.  In her spare time, Anna, who is also a prizewinning pianist, loves to ride her bike, read, and take part in Shakespearean theatre productions.